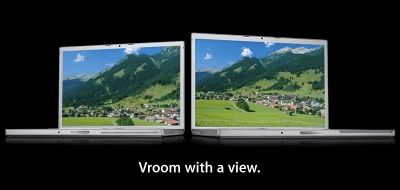 Well well well, it looks like all of the major rumor sites were correct once again. Last night I read all about how there were going to be new MacBook Pros today and almost wrote up a rumor blog about it, but I was just too lazy and way too tired. That, and once again I thought, "Suuuure, like that's gonna happen." Well, it did. I woke up at around 9 this morning to find that the Apple Store was down. A few minutes later it was back up again with brand new MacBook Pros. The specs are amazing and enough to cause any tech freak (Windows, Mac and Linux alike) to get a gadget-erection. The price is literally unbelievable for the feature set. I am still kind of in shock from how much stuff they packed into the $1,999 MacBook Pro.
The specs are as follows:
15 inch screen with 2.2 Ghz Santa Rosa chip for $1,999 or a 2.4 Ghz Santa Rosa chip for $2,499. The 17″ model has a 2.4 Ghz Santa Rosa chip and is priced at $2,799. Also, (and this, I think, is the biggest deal about thew new Pros) they now all have LED Backlighting! No, not in the keyboard, but in the screen! Can you even imagine the color accuracy? Imaging professionals are going to flip.
They now also come equipped with NVIDIA GeForce 8600M GT graphics with 128MB on the $1,999 Pro and 256MB of Video Ram on the $2,499 version and the 17″ model as well.
Other than that, specs go completely unchanged, though they are now advertising Wireless-N capability, even though all Apple Computers have had that hardware capability since the implementaion of Core 2 Duo processors.
So to me, it feels like the MacBook pros are finally complete. Yay for Apple!
6 Comments »