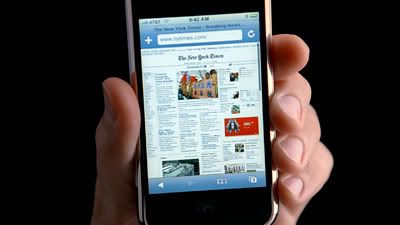 I was going to publish this last night, but for some reason I had an inkling the ads weren't all released. Okay, you caught me, I really am just that lazy. The fourth ad was pure luck.
Well yesterday a threesome of iPhone ads appeared from AT&T/Apple (looks like Apple's ad people did it though, and it's on Apple's site so I'm going to go with Apple, despite the AT&T logo at the end.). They're all clever in their own right, but the one I saw today was the first ad that was more Apple in nature. It directly attacks the mini-internet designed for cell phones (and rightfully so.), much like Apple attacks erm, points out the shortcomings of Windows on their Mac vs. PC commercials that we all love or love to hate so much.
Click here to check 'em all out. They're all pretty entertaining.
EDIT: Anyone know who David Taylor is?
3 Comments »