First I want to apologize for the lack of posts this past couple weeks. I've been on a vacation (or holiday to some of you) in the Dakotas for the past 2 weeks or so.
Okay now back to business. Tomorrow Apple is hosting a media event to announce Mac-related news (their words, not mine). Rumors have been endless this week. The most frequent is the belief of a brush-aluminum iMac. The rumor of a brushed-aluminum iMac has been circulating since before Macworld in January. As soon as I heard about this, I figured it was going to be a Cinema Display clone with a superdrive on the side and all the computer guts stuffed behind the display. Well, today when I got home, I hopped on Gizmodo and saw this: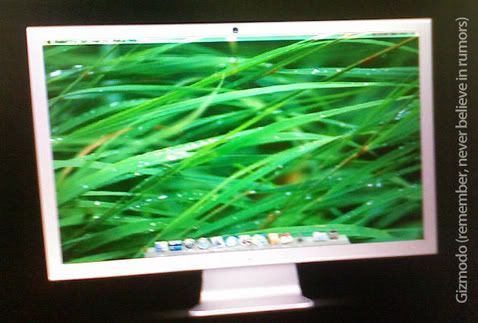 I say, it looks very fake but it still got me excited.
Tomorrow is going to be a busy day for the Mac news world I hope. Also, starting today I go back to posting every day. Sorry for my recent neglect.
1 Comment »