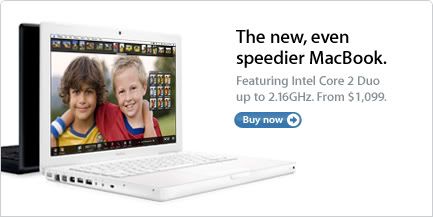 (Sigh) It figures. I thought and fully expected that it would be six to eight months before I would experience buyers' remorse for my blackBook (bought in February).
Last night before I went to sleep, I skimmed through the rumor sites and saw rumors about a macBook update to happen this morning. I laughed it off with a "suuuuuuuuuure, just like the iPods that were supposed to land last tuesday" and rolled over and went to sleep (this is the pathetic life I lead).
This morning, sure enough, I wake up and was checking e-mail and rumor sites and there are new MacBooks. I double-refreshed Apple's Store site to be sure even. Now the speeds start at 2.0ghz (what the previous highest speed was) for $1099, and yes you still have to pay $1499 for black but now they ship with 160GB of hard drive, not the previous 120GB and are now expandable up to 200GB. Seeing as how I'm running kind of lowish on HD Space (37 Gigs left out of 120), this is where I experience the most buyers' remorse. The 160 Mhz bump in speed means nothing to me, or I would have purchased a MacBook Pro.
In other news, Macbooks also now contain a steeper student discount for the least expensive model. 2.0 Ghz for $999? It was $1049 until today. The other two price points are the same as before though at 1299 and 1399.
Well that wraps up my buyer's remorse of the week. Other MacBook puchasers since October (the Core 2 Duo update), lets all let out a collective sigh and shake of the head… Apple, I give you the Stephen Colbert Wag Of The Finger! Couldn't you have waited at least until fall and threw in Santa Rosa? I'd buy a new one, I promise!
This just in. In a surprise press conference Steve Jobs silenced all of the critics and caused their never-stopping jaws to hit the floor and released Mac OS X 10.5 Leopard toda… Yeah. Sure. We still have to wait until October.
6 Comments »